You may not have heard the term hybrid artist before, but in time you're likely to hear it more and more. Why? Because it's part of the ongoing evolution of the craft of prosthetics which is always developing as technology advances and presents new techniques to incorporate into how practitioners do their jobs.
In prosthetics a hybrid artist is someone who uses both practical and digital tools and techniques in their work. The practical techniques such as sculpture and mould making we all know about, but the digital ones are probably less familiar. These include digital 3D sculpture software such as Z-Brush and manufacturing processes like CNC milling, 3D scanning and 3D printing. These are now very commonly used in prosthetics and creature FX, as well as in stop motion animation, prop-making and specialist costume-making. Below is the digital design for the project shown above: melting Angela Merkel created for Merlin Entertainment by our sister company Millennium FX. This was produced by 3D scanning Madam Tussauds' waxwork figure of Merkel and cleaning the scan up in Z-Brush, which was done by Chris Goodman.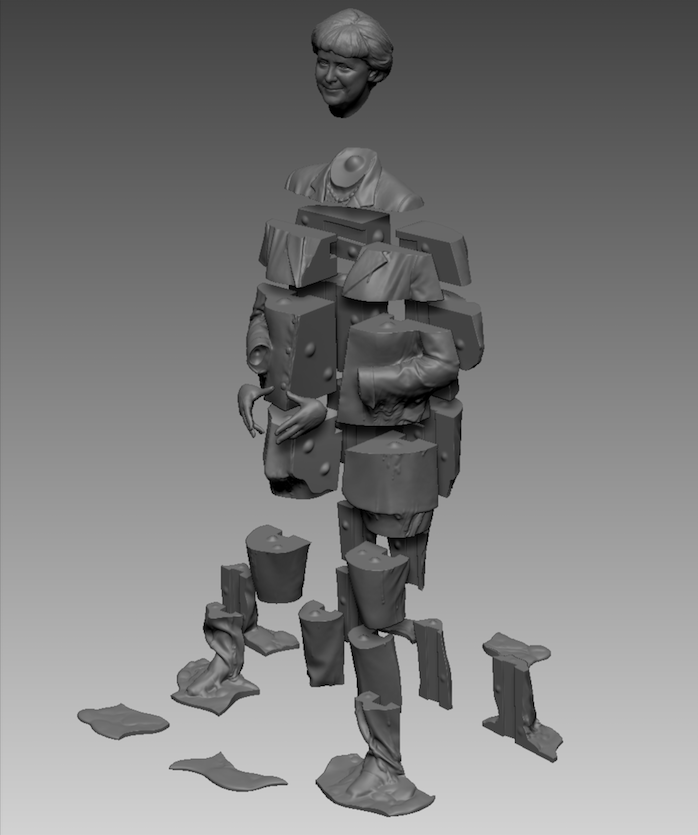 Such digital tools bring different benefits. One is that they can make processes quicker and more accurate – a 3D scan of a face or body ticks both those boxes while a clay sculpture can be time consuming to create and less accurate for example. In some instances working digitally can be more cost-effective and allow tasks to be done remotely which has its advantages, including allowing a company to hire a sculptor in another part of the world who won't need to relocate to do the job, as it can be done just as effectively anywhere as long as communication is good.
In many cases digital processes result in jobs being less demanding on space in a workshop, as not only is the equipment required more compact and cleaner to use, but often less people are needed to operate it. There are other benefits too, for example a clay sculpture is heavy and hard to transport, but a 3D print is made of resin or filament and is therefore very light, and CNC milling which is used to create larger objects uses high density (HD) foam, so even a very large milled object can be effortlessly carried around. It's also much easier to make fundamental changes to a digital sculpture than it is to a clay one, again making the job more efficient.
Below is our sister company Millennium FX's first hybrid project – a monster for BBC series Torchwood all the way back in 2009 that was sculpted in Z-Brush by Martin Rezard (pictured) and CNC-milled in HD foam – click on pics to enlarge:
Digital techniques won't suit every job of course, so there will always be a need for the traditional skills of sculpture, mould making and casting etc. Augmentation techniques such as flocking and hair punching still need to be done by hand, and when it comes to completing a prosthetic of any kind with bespoke painting and finishing, those aspects need the skills of a real life artist rather than a machine.
These are some of the reasons why hybrid working is becoming more commonplace in FX workshops in the film and leisure industries. Whilst every job is different and some may be best suited to a 100% practical approach, there is very often a place for a digital process in the workflow of creating a prosthetic, and in order to work most efficiently in a hybrid way, companies need hybrid artists.
A prosthetics artist who can perform both digital and practical processes is a highly desirable part of any contemporary prosthetics team as it means the company or production won't have to employ two people to get those tasks done; one person doing both means straightforward coordination and communication in managing the job, creative continuity, less expense and less space used in the workshop.
At the moment very few hybrid artists exist and those that do are in great demand for all the above reasons! Until now it wasn't possible to train to be a hybrid artist in an education setting, you could only study one type of skill set at a time, however that's about to change with the launch of our new Masters degree in partnership with Falmouth University's multi-million pound School of Film and Television…
Starting in September 2020, the MA in Prosthetic Effects is a ground-breaking course that will teach those who have worked solely in the world of 3D and digital modelling to progress into physical manufacturing, and enable those with a background in model, prop-making and prosthetics to introduce digital design and manufacturing processes into their workflow.
Neill Gorton will be personally involved in the teaching of this course and says,
"3D sculpture and manufacturing processes are now very commonly used in prosthetics as well as other crafts in the filmmaking and leisure arena. on this MA I hope to be working with artists from across that spectrum who wish to study with us to combine their existing skills with new ones that will elevate their employability and push them to the very cutting-edge of our industry."
Learn more about the MA in Prosthetic Effects at the Falmouth University in partnership with Gorton Studio here and in the video below.
Want to find out more about the subject of hybrid prosthetics? See these articles in Prosthetics Magazine:
'From Virtual to Reality' by Neill Gorton in issue 19
'Word of Wisdom' by Clinton Aiden Smith in issue 18
'Digital Prosthetics' by Joshua Turi and Mike Defeo in issue 13
The hybrid approach also extends to post-production, where CGI techniques are often used to enhance an effect that has been filmed with a prosthetic makeup or prop. Find out more about this here:
'The Art of Imitating Life' by Todd Masters in issue 1