We loved 'Worzel Gummidge' on BBC1 this past week! Congrats to our 7-week course grads who were part of the brilliant Millennium FX team on this fabulous re-interpreting of the classic children's tale – amongst which special kudos to Sharna Rothwell – see below.
Here's what Neill Gorton had to say about it:
"This was a real passion project for Millennium FX; big on ambition but tight on budget. The team unanimously agreed that we loved Mackenzie Crook's vision, believed strongly in re-introducing this classic character to a new generation and wanted to be a part of it.
"My bit was to create Worzel's makeup. First a nod to prosthetics artist Matt Smith who created an initial makeup design for a non-broadcast pilot/test shoot. Matt was unavailable for the series and Millennium took over duties. With lots of new characters to create and tweaks that needed making to Worzel, from the test look we started the build from scratch on everything.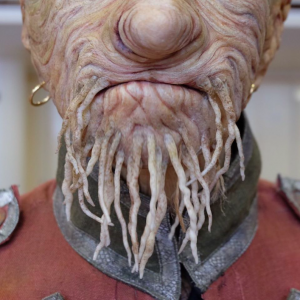 "I sculpted in Chavant NSP medium and broke it down into several pieces: cowl, neck, forehead, face, chin and ears. The neck and cowl were fibreglass moulds. The neck was barely seen under the costume and thus was made a bit firmer so the appliances could be used a few times over for budget reasons. The cowl was also a firmer silicone, and reusable. It also had a removable top piece that helped Mackenzie cool down between takes, as well as being removable for when he was wearing a hat. The ears were silicone and also reusable, and the face pieces were moulded in Axson f40 resin and run in PlatSil Gel-25 with a Supercap encapsulate. The roots on his chin were PTflex 20 from a silicone mould glued on one by one.
"Other work commitments meant I couldn't apply the makeup but Jon Moore, ably assisted by Jody Stanton, did a fantastic job that was made tougher by the actor also being the director!
"Special mention to Sharna Rothwell #foxglovebears who headed up the team for all the other characters. She threw herself into this and delivered beautifully crafted characters under difficult financial constraints."
Well done all – perfect Christmas viewing!