Social media is a big part of most of our lives. Not many of us go a day without flicking through Instagram, checking our Facebook feed or taking a look at TikTok, and watching what popular makeup FX practitioners are doing on those platforms is intriguing, inspiring and fun to follow.
We hear the expression 'influencer' used about such social media personalities a lot, but what exactly does it mean in terms of makeup FX and is it a real job that pays the bills?
Influencers in our world are usually artists who have built a reputation for their skill which has led to them amassing a lot of followers. This means they have many eyes on their work, and thus an opportunity to get information out to a great deal of people – all of whom are specifically interested in their subject – a naturally established, highly-targeted audience, which in marketing terms is a very valuable thing.
As makeup FX artists we're interested in the final work these practitioners produce, but also which materials, products and equipment they use to create it. This knowledge may well inspire us to try not only the same techniques, but also the same products…which will lead us to spend money buying them from retailers, who will need more of those products from the manufacturer as demand increases…and there you have the crux of why a successful social media influencer can be a business asset to a brand.
Product promotion is the main way social media influencers earn money, and makeup FX is a visual medium that relies on a lot of products to achieve an easily demonstrable end result, so there is plenty of opportunity for product promotion. So yes for some artists being a makeup FX social media influencer is a job and for those at the top of the pile it can pay the bills.
Don't make the mistake of thinking this is easy however, and never imagine it's 'passive income' – that's income that requires little to no effort to earn and maintain, as it's far from that. In order to attract a lot of followers interested in makeup FX, and then ultimately interest brands in wanting your endorsement, you need to be exceptionally good at it, and skills like this take a lot of work and a long time to hone. You also need to produce a lot of regular work to keep your followers on board and meet the expectations of the brands that are paying you to advertise their products, which is not only time-consuming, but pressurised, tiring and can eventually be a drain on your creativity, so you need resourcefulness and ingenuity to combat that, not to mention a high level of technical and product knowledge to allow you to keep developing new work. Finally you need to be prepared to share your hard-earned techniques, tips and tricks, as the added value of learning opportunities is a proven way to gain the support and hold the interest of followers in creative fields.
All things considered it's only the best of the best who are able to achieve all those things and become paid social media influencers, and for those with the added advantage of some business knowledge and ambition, the ultimate goal can be launching a brand of their own.
Neill has just been working with one such exceptional artist on an article for the next issue of PROSTHETICS Magazine – the very talented Vanessa Davis, better known on the Internet as The Skulltress. Her work is fabulous, inventive and edgy, and in the magazine interview we'll hear how she started out in the world of makeup and how ultimately she has become a bona fide social media sensation in the world of makeup FX.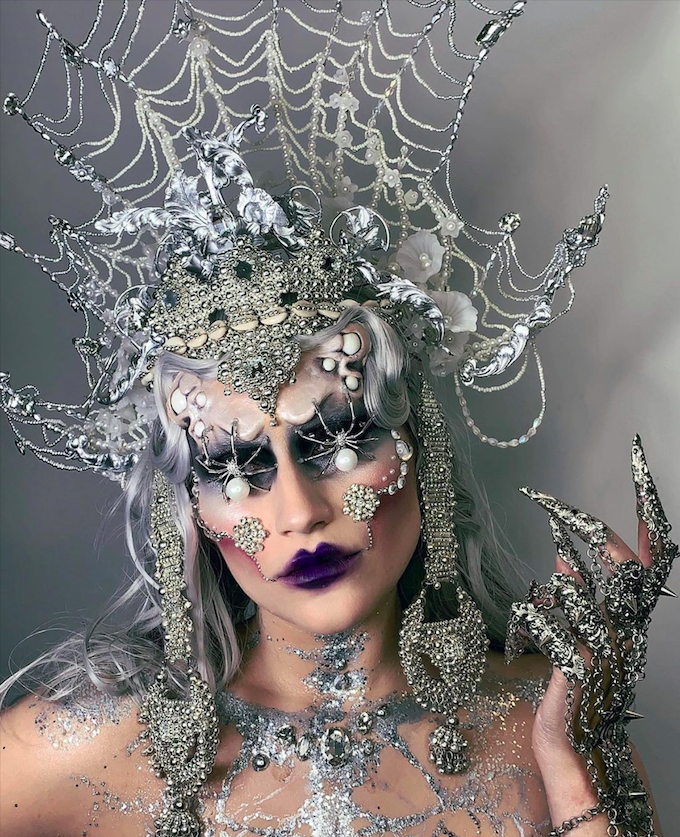 Above: Spider Queen by Vanessa Davies, headdress made by Agnieszka Osipa
Vanessa has been developing her social media presence for four years, gave up her job two years ago to do it full-time and now has almost 1.3 million followers on Instagram, 400,000 on TikTok and 220,000 on Facebook.
Look out for the article in the magazine in May and check out Vanessa's Instagram, Facebook and TikTok!